M-A-Y. These three letters, when strung together in that order, represent many things:
A lovely first or last name.
Who it's gonna be, according to N'Sync.
An expression of possibility or permission.
A month bursting with creative and compassionate marketing opportunities
That's right. I'm not just talking Mother's Day or Cinco de Mayo. There's National Limerick Day. Honor Our LGBT Elders Day. Small Business Week. Mental Health Awareness Month. Asparagus Month!?
You don't see BIC writing limerick about its pens, do you?
So in this post, I'm supplying with everything you need to connect with current and potential customers in meaningful and memorable ways this month. This includes:
A full list of May national days, awareness themes, and holidays.
Over 60 free, easy, and creative marketing ideas around these themes.
Real examples of blogs, social posts, events, and promotions to inspire you.
Read on for a boatload of ways to express your brand voice, engage with your audience, and show customers your creative side this May.
Month-long observances in May
In May, we celebrate, appreciate, and raise awareness for quite a lot. Here's what we're working with:
Health
ALS
Blood Pressure Education
Brain Cancer/Tumor
Celiac Disease
Cystic Fibrosis
Dental Care
Ehlers-Danlos Syndrome
Employee Health and Fitness
Lyme Disease
Mediterranean Diet
Melanoma/Skin Cancer
Mental Health
Stroke
Sturge-Weber Syndrome
Motorcycle Safety
Water Safety
Wildfire Awareness
Diversity and social awareness
Jewish American Heritage
Haitian Heritage
Older Americans
Asian American Heritage
Pacific Islander Heritage
Foster Care
Military Appreciation
Lifestyle
Better Speech and Language
International Drum Month
Date Your Mate
Biking
Chamber Music
Get Caught Reading
Inventors
Photography
Pets
Preservation
Recommitment
Moving
Food
American Cheese
Asparagus
Barbecue
Egg
Hamburger
Salad
Salsa
Strawberry
Week-long May observances
First full week of May
Small Business Week
Wildflower Week
Choose Privacy Week
Screen-Free Week
National Hospital Week
First Sunday through Monday of May
National Pet Week
North American Occupational Safety & Health Week
Public Service Recognition Week
First Monday of May
Teacher Appreciation Week – First Monday through Friday in May
Second week of May
National Etiquette Week – first Monday of the second full week
National Salvation Army Week – second full week
American Craft Beer Week – second full week
Nurses Week: May 6th – May 12th
Third full week of May
National Emergency Medical Services Week
National Police Week – week of May 15
Public Works Week: Week of May 15th
National EMSCULPT Week – Week of May 20th
Bike to Work Week – Week of National Bike to Work Day
Holidays and observances in May
There's a complete list of May holidays and observances at the bottom of this post, but here are some highlights:
National Loyalty Day – every May 1
National Lumpy Rug Day – every May 3
Star Wars Day – every May 4
Cinco de Mayo and Kentucky Derby – every May 5
Teacher Appreciation Day – Tuesday of the first full week in May
Mother's Day – May 8
Limerick Day – every May 12
Peace Officer's Memorial Day – May 15
Do Something Good for Your Neighbor Day – every May 16
Bike to Work Day – third Friday in May
Armed Forces Day – 3rd Saturday in May
Endangered Species Day – every May 20
Geek Pride day – every May 25
National Burger Day- every May 28
Memorial Day – last Monday of May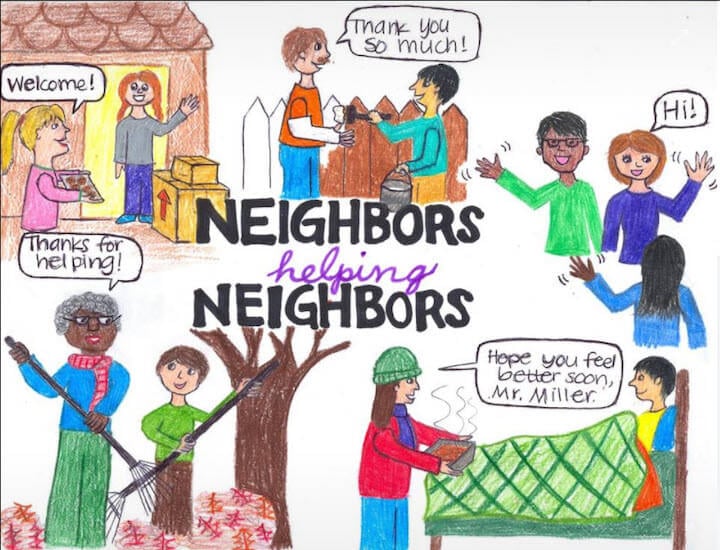 Diversity, Equity & Inclusion marketing ideas in May
We all hear about diversity, accessibility and inclusion in marketing but what does that look like? Let's take a look.
National Honor Our LGBT Elders Day
This holiday, celebrated every May 16, was created by Chase Brexton Health Care, an LGBT health resource center. It is focused on honoring protestors, supporters, doctors, politicians, influencers and others who blazed the trail with the LGBT movement.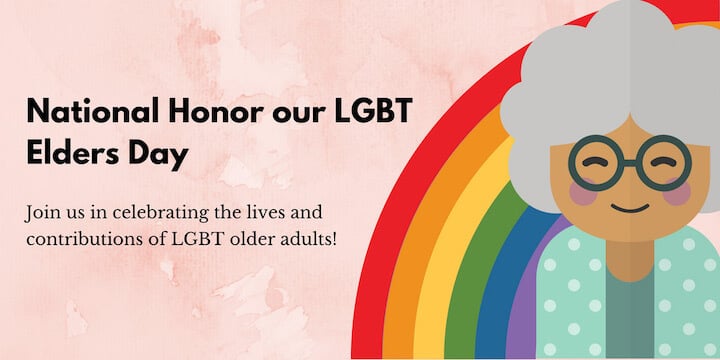 Here are some ways to honor them:
Do some research and identify LGBT trailblazers in your geographic or industrial niche and write a blog post or social media fun fact post about them.
Ask your audience to share older LGBT mentors and thought leaders in their lives.
Raise awareness about the importance of taking care of LGBT elders who may still lack the care and support they need.
Jewish, Haitian, Asian & Pacific Island heritage month
In May, we celebrate individuals of Jewish, Haitian, Asian, and Pacific Island descent. Here are some ways to do just that:
Consider learning about each of these groups and sharing your findings in a blog post or on social media.
Interview a coworker, client, or friend who identifies with one of these groups on a topic relevant to your audience.
Put a request out there to your network for individuals within those groups to write a guest post or share their experience about something with a dedicated hashtag.
National Silence the Shame Day
This day is observed every May 5 and is dedicated to erasing the shame and stigma around mental health challenges and disorders. Consider these ideas:
Share eye-opening stats about mental illness in the United States (or the world).
Share a few resources for those who are struggling with anxiety, depression, and other symptoms.
Participate in #silencetheshame textathons and fundraisers like the one below.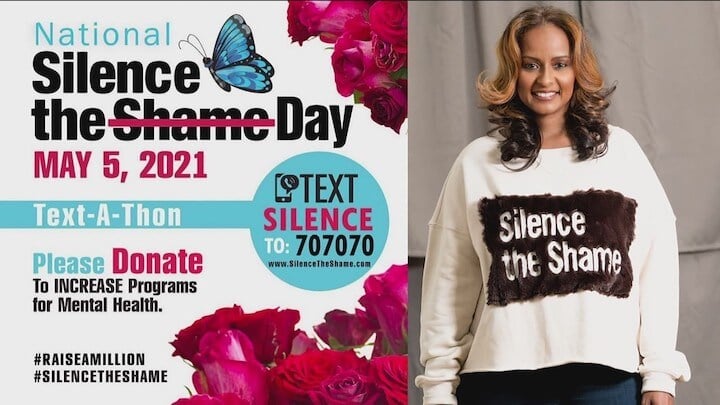 National Barrier Awareness Day
Every May 7, National Barrier Awareness Day encourages us to advocate for and educate others about breaking down barriers—visible and invisible—that prevent individuals with disabilities from living independent, fulfilled lives.

To participate in this day:
Use the #nationalbarrierawarenessday hashtag to post information, resources, and stats.
Do an Instagram Story takeover by someone with a disability so they can share a day in the life.
Ask your audience about their experiences with barriers and how they overcame them.
Additional observances in May that help promote diversity, equity, and inclusion include:
National Interpreter Appreciation Day – first Wednesday in May
Join Hands Day – First Saturday in May
National Bombshells' Day – First Saturday in May
International Being You Day – annually on May 22
May marketing ideas for national weeks
We've got loads of ideas for you for May—for Facebook and Instagram posts, blog posts, events, promotions, and more. We've organized them by themes and holidays, but you can find industry-specific ideas within each theme.
National Small Business Week
First and foremost, National Small Business Week happens annually every first week of May. The event was postponed until September and turned into a virtual celebration in 2020 due to COVID-19, but it's back on in 2021 starting May 2.
Dedicated to raising awareness about small businesses and celebrating the hard-working owners behind them, this week will be packed with ample marketing opportunities. Here are some ways to make the best of National Small Business Week:
Get return customers: Give out coupons with purchases this week, that can only be redeemed on an upcoming holiday or on the last day of Small Business Week.
Get more leads: Offer a downloadable, small business-themed piece of content that is of value to your target audience in exchange for their email addresses. You could also create a guide outlining the specials offered by other small businesses in your neighborhood. This is a great way to connect and network with nearby businesses and strengthen your ties to the community.
Promote your promotions: Write a blog post with a schedule of the deals, events, and contests you're running and include it in your emails and social media posts.
Increase your exposure: Use #nationalsmallbusinessweek and #nationalsmallbusinessweek[your location] and other relevant hashtags in your social media posts and promotions.
Run an Instagram giveaway for a free product or service. Entrants post a photo to Instagram of themselves at your business, using a custom hashtag. Announce the winner at the end of the week.
Connect: Don't forget that educating yourself about small businesses and networking with other small business owners is important for your marketing success as well. Attend local events, SBA events, or follow along via live streams.
Build community and expand your reach: Team up with other complementary small businesses and create an event.
Give back: Make an extra effort to give back to your community by shopping at, posting reviews, and engaging in social media with other small businesses during the week.
Public Service Recognition Week
For Public Service Recognition Week, post a thank you to the men and women who make our lives better by devoting their days to public service professions. Public service employees range from police officers to county clerks to city bus drivers. Say thank you!
Women's Health Week
During Women's Health Week, get creative about how you show appreciation for your female consumers and think of fun ways to engage them with your shop and on Instagram.
This influencer partnered with integrative health providers to share women's health educational content and resources:
This fitness center took their spin class outdoors to shake things up a bit. This is a great idea, especially during the pandemic. If lugging out equipment isn't an option, go for a yoga class, dance class, or boot camp. This is also a great way to show potential customers how awesome your classes are.
Kentucky Derby
Use the Kentucky Derby in your May marketing efforts. Get creative with derby fashion or horse-themed decorations, promotions, contests, and events. For example,
Change up your storefront with a derby theme to grab attention and attract customers.
Blog about derby fashion and outfits for men and women.
Throw a derby party with derby hat contests and mint juleps.
Host a cooking or cocktail-making class.
Run a derby hat contest on Instagram or Facebook.
Use derby hashtags such as #kyderby, or your own custom hashtag (like #derbyatjoes) so that people can find you and follow along.
Cinco de Mayo
In the spirit of Cinco de Mayo, there are many ways to infuse a Mexican-American spirit into your marketing. For example:
Food or fitness businesses can post recipes or videos of recipes on social media.
Give out coupons the day before or a few days before, redeemable on Cinco de Mayo.
Share a festive discount "code word" on social media, customers who mention the code in-store get 15% off.
Use a triumph or underdog theme. This holiday comes from Mexico's unlikely victory over the French in the Battle of Puebla. Give your customers the victory over high prices, long lines, slow service, and more with particular deals.
Use the number 5 in your promotions, such as get the fifth one free, $5 specials, 5% off, 5 for 5, etc.
Throw a party or cooking class revolving around Mexican food and culture.
Consider offering your followers information about where to enjoy Cinco de Mayo. Remember, not everything you post should be in an effort to make a sale. Providing useful information gives your followers another reason to keep watching you on social media.
Teacher Appreciation Day
May 2nd is Teacher Appreciation Day—a perfect time for preschools to market themselves to new parents in anticipation of the new school year.
Throw a party for teachers or have students write thank you letters to show off on your blog, in email newsletters to parents, or on social media.
Update your website content with new teacher bios and pictures.
Did anyone receive a new degree or have a teacher accomplishment to share? This is the perfect time to showcase them in an "About Us" page on your website. Doing so not only highlights your teaching staff, but it also can improve your SEO.
Mother's Day
Mother's Day is prime time for any business, not just the flower shops, salons, and spas (although it is advantageous!).
Flower shops and bakeries can offer special Mother's Day products, and discounts for Mother's Day gift-givers, either on this day or the day before as well.
Salons and spas can create Mother's Day-themed gift certificates, or offer 2-for-1 deals for mothers and daughters celebrating together.
Combine products and/or services into attractive gift packages that make gift-giving easy.
Businesses that get a spike in traffic on Mother's Day can hand out coupons with purchases that are redeemable at a later time (ideally a time when business typically gets slow).
Preschools can have their little ones create Mother's Day cards or crafts to send home. Make sure to post the pictures on social media or follow up with a blog post or email newsletter to communicate with parents!
Run a Mother's Day photo contest on Facebook.
Memorial Day
Here are some ways to show your patriotism and love for the good ol' USA through your business marketing on Memorial Day.
Promote red, white, and blue-themed recipes, outfits, flower arrangements, jewelry, and other products and promote on Pinterest and Instagram.
Host a BBQ or picnic for your community, and give out branded swag like sunglasses or water bottles.
Participate in or sponsor a local event.
Use quotes, images, and other posts on social media to show your support for those who have lost their lives for our country.
Run a charity race or ride to remember our troops and veterans.
Memorial Day is often celebrated with gatherings (small ones during COVID-19), and Groupon will feature seasonal deals on its site. Try running a Groupon deal geared for families and groups. You could offer winter and spring products and services at a discount or even introduce your summer deals.
Run long weekend deals that encourage others to check out your business during their mini-vacay.
And if you're in a pinch, head on over to these Memorial Day marketing ideas you can pull off last-minute.
Star Wars Day
Star Wars Day simply can't be ignored with its rising popularity. Run a webinar or live stream on this day to help add some creativity to your copy.
Or, organize a live or virtual Star Wars trivia night or contest. The prize could be discounts on future purchases or even a small cash prize for the winning team to share.
Bike to Work Day
Perhaps a surprise to most, Bike to Work Day is kind of a big deal in most major cities. Many metro areas have websites to register for the day and to organize large bike-riding groups. Look for information regarding your local Bike to Work Day activities and post useful information for your followers.
Geek Pride Day
Geek Pride Day offers you the opportunity to geek out over anything you think is the bee's knees (a technical geek term). Geek out over a topic in your industry that you're passionate about, or ask your employees about what they geek out on. Or, ask your social media followers questions related to the day.
ALS
Not only is it important to support worthy causes, but statistically, people are more apt to do business with companies that share their values. This restaurant got a repost from an ALS-focused organization to help drive customers to their fundraiser:
You could also post infographics that educate the public:
Peace Officer's Memorial Day
As a part of Public Service Recognition Week, we have Peace Officer's Memorial Day on May 15. In addition to our troops and veterans, no one deserves our adulation more than those who serve and protect our cities. Take a moment to give a big thank you to your town's protectors and even offer up specials specifically for Peace Officers.
More May marketing themes & ideas
Warm weather/spring cleaning
Take advantage of the warmer weather and provide information and helpful tips to your customers in accordance with your business.
Contractors, landscaping companies, and painters should boost their May marketing efforts to get new clients for the spring and summer months. Try sending out postcards encouraging homeowners to get their homes and gardens in top shape for summer.
Now's the time to run that gutter cleaning sale or post pictures on Facebook of your most recent outdoor paint job. Build your content authority with SEO-optimized blog posts about seasonal maintenance.
Speaking of spring cleaning, why not do a little of your own by going through your website, ad campaigns, social media profiles, and listings to make sure information is up to date, photos are relevant to the season, and links are working properly. You may want to refresh some of the evergreen content from last year that performed well around this time.
Gather up your top reviews from last year and share them on social media. These make for enjoyable Tweets with no pressure to click a link or read more. You might also share success stories with before-and-after photos to get clients excited about the warm weather.
What better time to get the chatter going about your business when people are getting excited about the warm weather? Word of mouth marketing is important for small businesses. Offer existing clients a discount or incentive for each new client they refer who becomes a paying customer.
Flowers
April showers bring May flowers. If you own a flower shop, May marketing is your time to shine! (If you don't, there are still opportunities!).
Host that flower arranging workshop you've been thinking about.
Start a Pinterest board to see if Pinterest is right for your business, or grow your Pinterest following with your creations linked to your online store or blog.
You don't have to be a florist to use flowers in your marketing. Spruce up your office, restaurant, or storefront with flowers. Nothing says "spring" like fresh-cut flowers that add a pop of color to your business space.
Buy flowers from a local florist and introduce yourself. Supporting other small business owners is the first step to getting more word-of-mouth referrals.
Weddings
May is the start of wedding season and a perfect time to market your business to new people who are in town. Unless, of course, you're hosting a virtual wedding this year due to the pandemic. Here are some wedding-based marketing ideas for both live and virtual weddings.
Caterers, event planners, DJs, photographers, bakeries, and other wedding-friendly services: Use social media to engage customers as much as possible. Whether you're hosting the bachelorette party at your restaurant, baking the wedding cupcakes at your bakery, or photographing the event, be sure to take pictures and share them on Facebook and other social media platforms. You may also want to ask and see if you can use the special custom hashtag for the event. This is a great way to put a name to the features of the wedding that stick out to guests (who can become or refer you to new customers) and their social media audiences.
Landscapers can capitalize on wedding venue owners looking to perfect their property.
Or perhaps you want to run a virtual wedding planning campaign, through organic content or paid ads.
Fitness and nutrition businesses can provide workouts, recipes, blog posts, and tips on getting to your healthiest and best version of yourself in time for these heavily photographed events.
Final tips for your May marketing
Whatever you decide to do to promote your business in May, be sure to recap your events, promotions, and festivities in your next email newsletter or blog post so that those who missed out will want to join in the fun next year. Also, be sure to send follow-up emails to any new leads for your business. And during your campaigns, post real-time photos and user-generated content to encourage more participation.
Couldn't get enough? We've got lots more May social media holidays and ideas here!
Not May? Here's our full series of monthly marketing ideas
And for a year's worth of marketing ideas, check out this marketing calendar template from our friends at LOCALiQ.
Full list of May holidays and observances
Thank you, as always, to National Day Calendar for supplying these days and dates!
May 1
Law Day
May Day
National Chocolate Parfait Day
National Loyalty Day
National Mother Goose Day
School Principals' Day
Silver Star Service Banner Day
National Infertility Survival Day – Sunday Before Mother's Day
National Lemonade Day – First Sunday in May
May 2
National Life Insurance Day
National Truffle Day
Melanoma Monday – First Monday in May
May 3
National Chocolate Custard Day
National Garden Meditation Day
National Lumpy Rug Day
National Montana Day
National Paranormal Day
National Raspberry Popover Day
National SAN Architect Day
National Specially-Able Pets Day
National Textiles Day
National Two Different Colored Shoes Day
National Foster Care Day – First Tuesday in May
National Teacher Appreciation Day – Tuesday of the First Full Week in May
May 4
Bird Day
National Candied Orange Peel Day
National Orange Juice Day
National Renewal Day
National Star Wars Day
National Weather Observers Day
National Skilled Trades Day – First Wednesday in May
National Interpreter Appreciation Day – First Wednesday in May
National Bike to School Day – Changes annually – May 4, 2022
May 5
Cinco de Mayo
National Astronaut Day
National Cartoonists Day
National Hoagie Day
National Silence the Shame Day
National Totally Chipotle Day
National Day of Prayer – First Thursday in May
National Day of Reason – First Thursday in May
World Password Day – First Thursday in May
May 6th
National Beverage Day
National Crepe Suzette Day
National Nurses Day
National Military Spouse Appreciation Day – Friday Before Mother's Day
National Provider Appreciation Day – Friday Before Mother's Day
National Space Day – First Friday in May
School Lunch Hero Day – First Friday in May
May 7
National Barrier Awareness Day
National Packaging Design Day
National Paste-Up Day
National Roast Leg of Lamb Day
Free Comic Book Day – First Saturday in May
Join Hands Day – First Saturday in May
Kentucky Derby – First Saturday in May
National Babysitter's Day – Saturday before Mother's Day
National Birth Mother's Day – Saturday before Mother's Day
National Bombshells' Day – First Saturday in May
National Fitness Day – First Saturday in May
National Homebrew Day – First Saturday in May
National Play Outside Day – First Saturday of Every Month
National Scrapbook Day – First Saturday in May
National Start Seeing Monarchs Day – First Saturday in May
National Train Day – Saturday Closest to May 10
May 8
National Coconut Cream Pie Day
National Have a Coke Day
National Student Nurse Day
Mother's Day – Second Sunday in May
May 9
National Home Front Heroes Day
National Alphabet Magnet Day
National Butterscotch Brownie Day
National Lost Sock Memorial Day
National Moscato Day
National Sleepover Day
National Women's Checkup Day – Second Monday in May
May 10
National Clean Up Your Room Day
National Lipid Day
National Shrimp Day
National Washington Day
May 11
National Eat What You Want Day
National Foam Rolling Day
National Twilight Zone Day
National Receptionists' Day – Second Wednesday in May
National Third Shift Workers Day – Second Wednesday in May
National School Nurse Day – Wednesday of National Nurses Week
May 12
National Fibromyalgia Awareness Day
National Limerick Day
National Nutty Fudge Day
National Odometer Day
May 13
National Apple Pie Day
National Crouton Day
National Frog Jumping Day
National Fruit Cocktail Day
National Blame Someone Else Day – First Friday the 13th of the Year (May 13, 2022)
May 14
National Buttermilk Biscuit Day
National Dance Like a Chicken Day
National Decency Day
National Underground America Day
Cornelia De Lange Syndrome Awareness Day – Second Saturday in May
National Archery Day – Second Saturday in May
National Dog Mom's Day – Second Saturday in May
National Miniature Golf Day – Second Saturday in May
Stamp Out Hunger Food Drive Day – Second Saturday in May
May 15
National Chocolate Chip Day
National Nylon Stocking Day
Peace Officers Memorial Day
Take Your Parents to the Playground Day – Third Sunday in May
May 16
Honor Our LGBT Elders Day
National Barbecue Day
National Biographer's Day
National Coquilles Saint Jacques Day
National Do Something Good for Your Neighbor Day
National Love a Tree Day
National Mimosa Day
National Piercing Day
National Sea Monkey Day
May 17
National Cherry Cobbler Day
National Graduation Tassel Day
National Idaho Day
National Pack Rat Day
National Walnut Day
May 18
National Cheese Soufflé Day
National HIV Vaccine Awareness Day
National No Dirty Dishes Day
National Visit Your Relatives Day
Emergency Medical Services for Children Day – Wednesday of Emergency Medical Service Week
National Juice Slush Day – Third Wednesday In May
May 19
National Devil's Food Cake Day
National May Ray Day
May 20
International Red Sneakers Day
National Be a Millionaire Day
National Pick Strawberries Day
National Quiche Lorraine Day
National Rescue Dog Day
National Streaming Day
NASCAR Day – Third Friday in May
National Bike to Work Day – Third Friday in May
National Pizza Party Day – Third Friday in May
National Defense Transportation Day – Third Friday in May
National Endangered Species Day – Third Friday in May
May 21
National American Red Cross Founder's Day
National Memo Day
National Strawberries and Cream Day
National Waitstaff Day
National Armed Forces Day – Third Saturday in May
National Learn to Swim Day – Third Saturday in May
May 22
International Being You Day
National Buy a Musical Instrument Day
National Craft Distillery Day
National Maritime Day
National Solitaire Day
National Vanilla Pudding Day
World Paloma Day
May 23
National Lucky Penny Day
National Taffy Day
May 24
Brother's Day
National Aviation Maintenance Technician Day
National Escargot Day
National Scavenger Hunt Day
National Wyoming Day
National Yucatan Shrimp Day
May 25
National Brown-Bag It Day
National Missing Children's Day
National Tap Dance Day
National Wine Day
Towel Day
National Senior Health & Fitness Day – Last Wednesday in May
May 26
National Blueberry Cheesecake Day
National Paper Airplane Day
May 27
National Cellophane Tape Day
National Grape Popsicle Day
National Cooler Day – Friday Before Memorial Day
National Don't Fry Day – Friday Before Memorial Day
National Road Trip Day – Friday Before Memorial Day
May 28
National Beef Burger Day
National Brisket Day
National Hamburger Day
May 29
National 529 Day
National Coq Au Vin Day
National Paperclip Day
May 30
Loomis Day
National Creativity Day
National Hole In My Bucket Day
National Mint Julep Day
National Water a Flower Day
World Multiple Sclerosis Day
National Memorial Day – Last Monday in May
May 31
Autonomous Vehicle Day
National Macaroon Day
National Save Your Hearing Day
National Smile Day
National Speak in Sentences Day
National Utah Day
Necrotizing Fasciitis Awareness Day